There are several reasons people may want to boil their tap water, whether it comes from a well or a municipal water service. Sometimes local health departments issue boil water advisories when it is not safe to drink because of flooding or other emergency circumstances. Some consumers may want to remove or reduce chlorine, other chemicals from the water, or contaminants like trihalomethanes or cryptosporidium, but can you boil water and refrigerate it?
You can boil water and refrigerate it. You must, however, wait until the boiled water cools before placing it in a fridge. Unless you take steps to store the water in a sanitized container, it is recommended that you refrigerate it.
The following will discuss reasons for boiling water and what contaminants or chemicals are and are not removed when water is boiled. Also provided are steps for storing large or numerous containers of boiled water in a way that will keep the water potable if you don't have room to refrigerate all of it. Finally discussed are alternative ways to sanitize untreated water and remove chemicals and other contaminants from treated or untreated water.
What Does a Boil Water Advisory Mean?
Sometimes in emergencies, your health department may issue a boil water advisory. This means that your water could or already does contain germs that could make you ill. When such advisories are issued, you should either boil your tap water or use unopened bottled water that has not been stored in a warm place.
Can I Use the Refrigerator to Cool Boiled Water?
No, do not use the refrigerator to cool your water or anything else for that matter. Michigan State University, which has a section of its website dedicated primarily to the proper storage of cooked foods, offers a warning relevant to placing anything hot in your refrigerator. It also provides information on ways to cool down food or water before refrigerating quickly.
If you put something hot in the fridge, it will increase the temperature inside and put the other refrigerated items at risk for spoilage. If you need to speed up the cooling of boiled water, you can place the container in a sink or larger vessel containing ice water.
Is Refrigerating Boiled Water Necessary?
Unless you have taken measures recommended by the CDC for storing boiled water or opened a large container of properly stored water, it is best to refrigerate the portion you are not using right away.
Sometimes you may want to prepare for any upcoming emergency or boil water advisory by boiling a large supply of water ahead of time, enough for all family members to each have a gallon per day for at least a couple of weeks. Because this much water won't all fit in your refrigerator, you should follow CDC guidelines for properly storing the water outside of the refrigerator.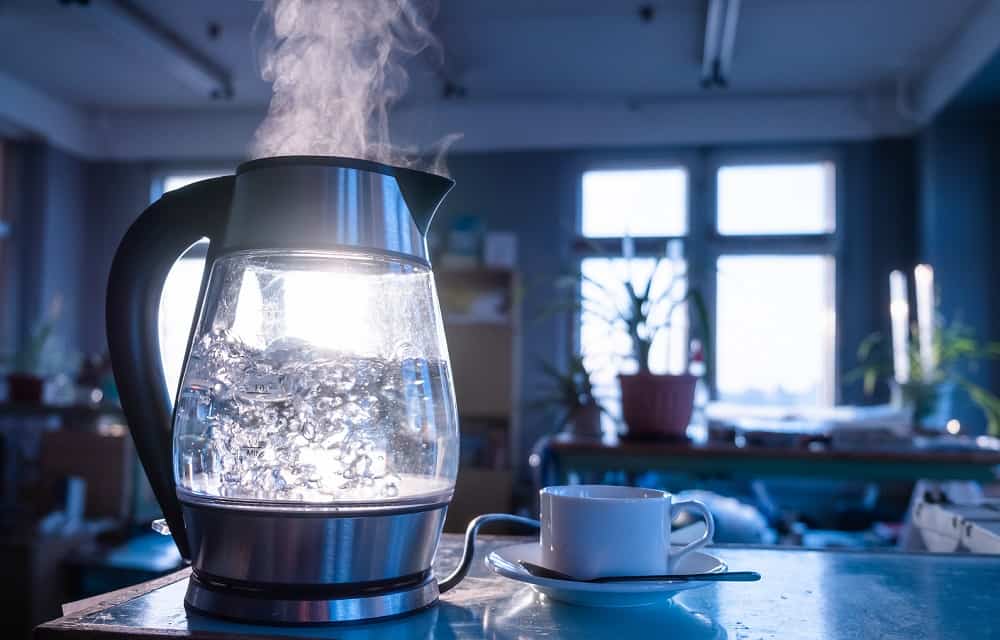 How Do You Properly Store Boiled Water You Cannot Refrigerate?
The CDC provides steps on storing boiled or otherwise sanitized water that will keep it potable, without refrigeration, for about six months. The basic steps are:
Boil the water for at least one full minute of roiling or roiling boil. 
Some sources say to boil the water for 10 minutes, so go ahead and boil a few minutes more to be sure it is sanitized.
Use only food-grade containers or water storage.
Sanitize the containers
Wash them with warm soapy water (use a fragrance-free and dye-free detergent) and rinse them well.
Sanitize the containers with a solution of ¼ to 1 teaspoon (1.23-5mL) of unscented household bleach mixed in 1 quart (1 liter) of water, shaking the solution to make sure all areas inside are contacted by the bleach solution.
Rinse again, this time with boiled water.
Seal the filled containers tightly. 
Store the sealed containers in an area where they will not be exposed to direct sunlight or volatile chemicals like gasoline, pesticides, and paints or temperatures over 70°F (21 °C)
Optional: Put the containers inside dark bags to help keep out sunlight.
Where Do You Find Proper Storage Containers for Boiled Water?
The CDC recommends food-grade containers like these 5-gallon Collapsible Water Storage Cubes and adds that it's best to use a container with a narrow opening for pouring.  
USA Emergency Supply sells new FDA-approved food-grade buckets and containers and says that you should check to be sure new containers you purchase are FDA-approved for storing food or water. Some containers have dyes in the plastic that are not acceptable, and HDPE recycled containers are not food-grade.
USA Emergency Supply also advises that if you want to store your water in used buckets, make sure they have been used only to store food. You can find these at ice cream manufacturers and parlors, bakeries, large restaurants, and food processing plants.
Is There Any Reason to Boil Tap Water if No Advisory Has Been Issued?
If you want to remove free chlorine, which may have been used to disinfect your tap water, boiling will remove most of it. There are also contaminants in tap water, such as cryptosporidium, which chlorine will not kill, and trihalomethanes, which chlorine creates.
Although you can remove some free chlorine without boiling by allowing the water to sit out uncovered, you will remove chlorine and the other contaminants by boiling for at least five minutes. However, you cannot remove chloramine, which is used by some water department unless you boil for about ten minutes, still with no assurance that you will remove all of it from the water.
If your goal is to remove chlorine, be sure to check with your water supplier first to see which, if any, chemicals are used to disinfect it.
Is There Any Reason to Use Filters With or in Place of Boiling Water?
Boiling water concentrates fluoride, which is often added, in the form of hydrofluosilicic acid (HFSA), to many US water supplies. The recommended level of fluoride allowed in municipal water supplies has been recently (2015) reduced by the CDC from 0.7–1.2 mg/L to .07 mg/L, due to concerns about the adverse health effects of over-fluoridation, such as fluorosis.
Others, like scientists with the Fluoride Action Network and former EPA senior scientist and now Scientist in Residence at American University, J. William Hirzy, have contested any addition of fluoride to drinking water. Hirzy more recently warned about the adverse effects of adding HFSA to tap water due to the arsenic that often contaminates it.
Hirzy recommends only pharmaceutical grade sodium fluoride if water facilities, city, or town boards of commissioners continue choosing to add fluoride. However, this form of fluoride is also toxic, and it will concentrate when the water is boiled.
What Are Other Methods of Sanitizing or Filtering Water?
The EPA provides an online brochure, which describes and recommends filtrating methods and reasons you may wish to filter even treated tap water. If you cannot afford a reverse osmosis system (RO), which is currently considered the most effective way to filter and sanitize water, you might consider boiling the water.
Use a carbon filter like this NSF Certified Waterdrop 10-Cup Water Filter Pitcher, available on Amazon, to supplement the process. However, keep in mind that these pitcher filtering systems only reduce contaminants and don't remove them completely. The only way to remove fluoride from tap water is through distillation or reverse osmosis.
Final Thoughts
When a boil water advisory is issued by health authorities, boiling the water is one way to make it reasonably safe for drinking if bottled water is not available. If you don't store your boiled water in properly sanitized and tightly sealed containers, away from heat and sunlight, then you should refrigerate it. But don't use the refrigerator to cool it.
If you want your treated water to be the purest possible in the absence of an emergency, invest in a reverse osmosis system, like this APEC Reverse Osmosis Drinking Water Filter System, which claims a WQA gold seal certification.
Sources